5 Sleep Hacks You've Never Heard
SLEEP BETTER WITH THESE OUT OF THE BOX SLEEP HACKS
1. SLEEP WITH YOUR SOCKS ON
A lot of people's hands and feet are too cold when they go to bed, so they turn the heat up. For optimal sleep the room should be several degrees less than 72F, so rather than turning up the heat, just throw some socks on until you're comfy.  
2. USE A WEIGHTED BLANKET
Ever think about why we even use blankets at all if we can set the temperature? The feeling of something heavier on top of us provides comfort, and Deep Touch Pressure stimulation has been shown to help increase serotonin & melatonin to promote sleep, and reduce cortisol or stress.  
3. SLEEP IN INCREMENTS OF 90 MINUTES
Sleep cycles all last 90 minutes, so to get the most bang for your buck on sleep, try to get as many full cycles in as possible. For most of us, that would be 6, 7.5, or maybe even 9 hours if we're super lucky. Make sure to account for the amount of time it may take you to go to sleep.
4. MAKE A LIST OF ALL THE STUFF KEEPING YOU UP
Who hasn't laid in bed thinking of all the stuff we have to do? Putting it all on a sheet of paper before bed allows us to release it from our minds so we can relax.
5. STRETCH
Stretch out your hamstrings when brushing your teeth and do a few quick back and leg stretches just before hopping in. You'll find it much easier to get comfortable quicker, allowing you to fall asleep faster.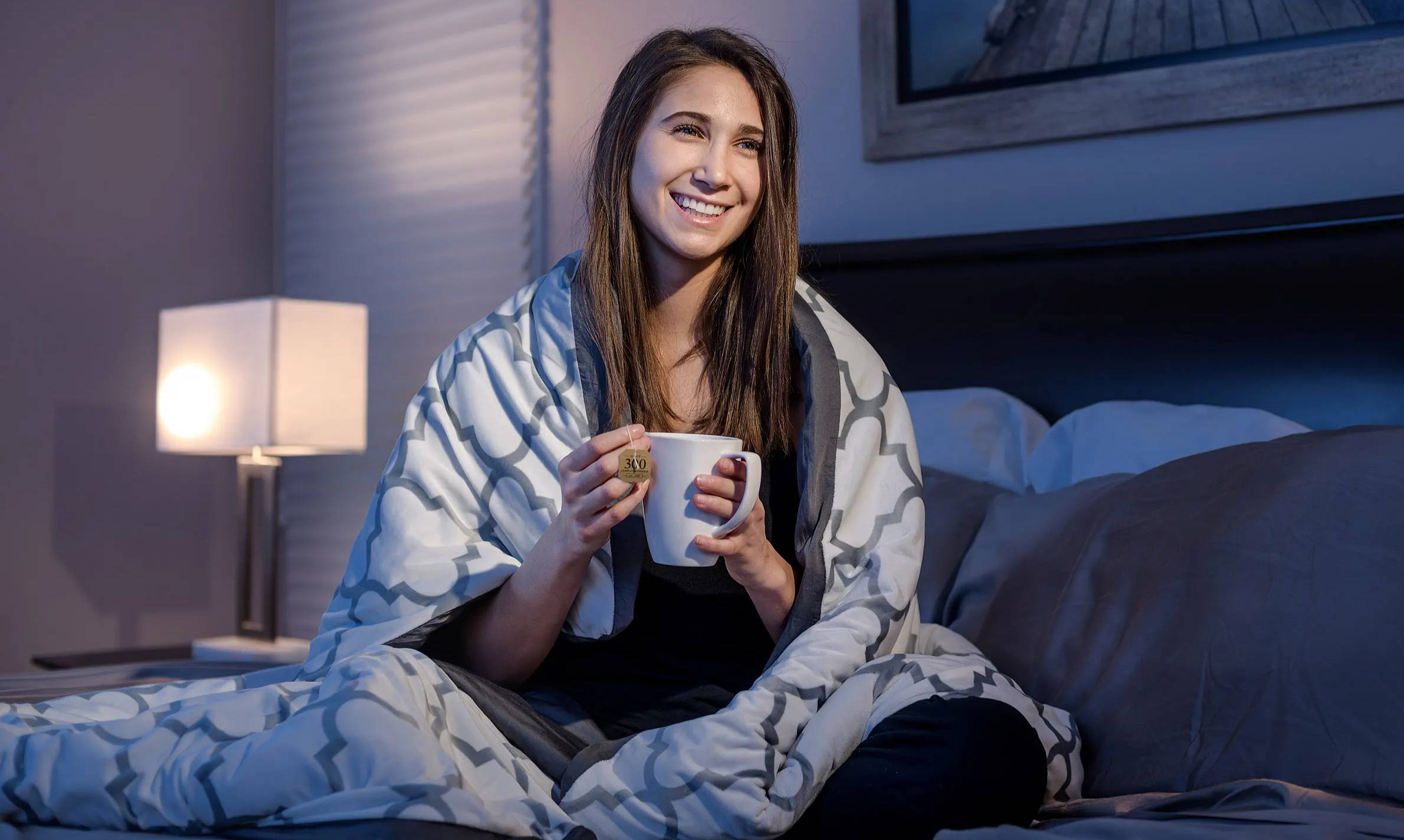 Who hasn't had a problem going to sleep before?
That's why we created LUXOME weighted blankets. Since you spend about 30% of your life sleeping we created a super high-quality weighted blanket that will provide restful sleep and relaxation for years.
There's a lot of weighted blankets, how do I know what's good?
Well, an obvious place to start is customer reviews. LUXOME is the only weighted blanket with over 4,000 verified reviews and 5-star ratings.
Low-quality weighted blankets often have a number of issues, all of which LUXOME fixed:
The beads that provide the weight bunch up like golf balls or hackey sacks
The blanket bunches within the cover so all the weight goes to one corner
The blanket is excessively warm - too hot to use
Beads leak or there are other major construction issues
How do you make the best weighted blanket?
First and foremost, we CARE. All of our families use our products first and we all use them in our own homes. We specifically design and construct our own products to fix problems and issues vs. other companies that just email a factory in China and ask them for 1,000 weighted blankets.  
Our care and diligence in each product shows in our reviews. We don't have a ton of different products, but the ones we have are absolutely stellar.  
SHOP OUR MOST POPULAR WEIGHTED BLANKETS